The great premiere!
2013-Nov-06
It's time to start the game
Today we are very happy and very excited as we believe you are, too. You know why... This is the release day of the long-awaited Video Strip Poker HD!
During the development process we put much stress on good experience of the gameplay. Hundreds of interactive gesture, including lots of them on demand, will make you feel every game is unique. Each detail will be perfectly visible because the game features High Definition video.
Another important quality of our new game is ease of use. The game will download your opponents automatically and quickly. The game will take care of the opponents activation as well. We gave up logins, SNs and passwords so you don't have to remember all those unnecessary stuff. Your e-mail address is all you need to know.
Also, we integrated in-game store so you can purchase the opponents easier than ever.
Purchasing on the website is easy, too. Just click the "more girls" section and start shopping.
Now, you can start your Video Strip Poker HD fascinating experience with exotic beauties from Asia: Chandra and Akira, hot chocolates Trisha and Jazz. A passionate redhead Tori is waiting for you, too.
Torquemada Games wish you plenty of fun!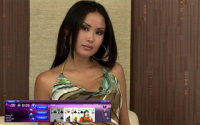 Video Strip Poker HD demo available now
2013-Sep-20
undress girls in minutes
We have just released the demo version of the Video Strip Poker HD with two sexy girls: hot redhead Tori and exotic Asian Chandra. To start playing in seconds just download and run the installer. The game will install opponents of your choice automatically for you.
Have fun! You can download the game here.